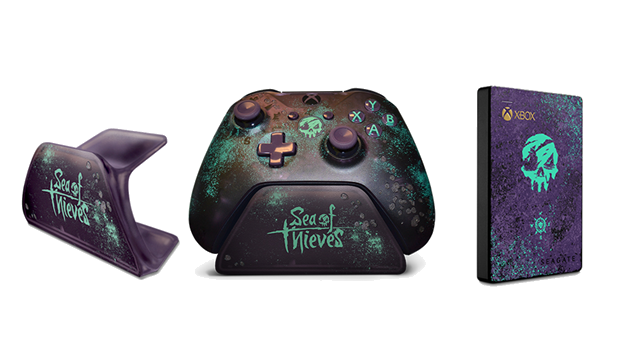 To go along with Sea of Thieves' limited edition Xbox wireless controller that was announced in December, Xbox has revealed new Sea of Thieves branded accessories that players will be able to pick up soon (via Major Nelson).
The lineup of accessories includes a 2TB Seagate external hard drive, a controller stand, and a charging stand. All of these items are designed to match the limited edition controller, with purple coloring and the Sea of Thieves skull adorning them.
Those in the US, Canada, France, Germany, and the UK can purchase the 2TB Sea of Thieves external hard drive on March 20, 2018 for $89.99, around the standard rate for a Seagate hard drive of that capacity. The Sea of Thieves Xbox Pro Charging Stand—which comes with a premium charging stand, battery cover, rechargeable battery, and a 6 foot power cord—will be available on February 19, 2018 for $49.99 while the regular controller stand will just cost $14.99, available on the same day.
You can buy the limited edition Sea of Thieves wireless controller now for $74.99 on the Microsoft Store. It comes with the exclusive Ferryman Clothing Set for your Sea of Thieves character, a 14-day Xbox Live Gold trial, and a 14-day Xbox Game Pass trial.
Sea of Thieves releases on March 20, 2018.