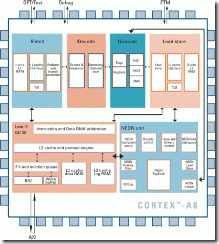 Samsung Electronics announced two SoCs (system-on-chips) based on ARM's Cortex-A8 cores, with the S5PC110 aimed at high-end smartphones, and the S5PV210 targeting portable computing devices such as netbooks. Both SoCs are fabricated with 45nm technology, clock at 1GHz, do 1080p video, and are imbued with "intricate low-power architectures," says Samsung.
Competing SOC are manufactured at 65nm, and run much slower than the 1Ghz Samsung processors.
Aimed at media-ready mobile devices requiring long battery life, Samsung's new SoCs are said to offer a 3D graphics engine for "sophisticated 3D UI and high-calibre games." The processors also support 1080p video playback and recording, as well as offering an HDMI 1.3 interface, says the company.
The device uses more efficient logic engines and  use other power-saving techniques, such as aggressive clock gating, power gating, variable voltage/frequency scaling, optimized Vt selection, and power efficient on-chip communication, the companies say. The device office particularly "low leakage," meaning that little current is being leaked when a device is in sleep mode, the companies say.
Both SoCs are said to offer a "wide variety of interfaces and peripherals," though apart from HDMI, only high-speed USB 2.0 was detailed.
The ARM Cortex-A8 core architecture, which tops out at 1GHz, was announced in 2005. Based on the ARMv7 instruction set, the core offers a dual-issue, superscalar pipeline that can execute multiple instructions simultaneously, helping it deliver 2,000 DMIPS (Dhrystone MIPS) at 1GHz.   Cortex-A8 is claimed to burn as much power as an ARM11 core, while delivering two to three times the performance.
ARM followed up with a Cortex-A9 core, announced in Oct. 2007, which should appear in finished silicon later this year or early next. The Cortex-A9 is promoted as supporting clock speeds over 1GHz and performance of around 2,000 Dhrystone MIPS.
Last week, ARM Holdings announced two dual-core implementations of the Cortex-A9, code-named "Osprey," said to be capable of clock speeds above 2GHz. Osprey evaluation chips should be available in 1Q 2010, says the company.
Customer samples of the S5PC110 and S5PV210 SoCs will be available in December, says Samsung Electronics.
For more detail read WindowsforDevices here.