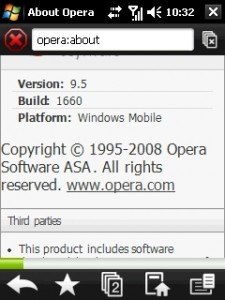 After the rather disappointing release of the official Opera Mobile 9.5 beta surprisingly we still have to turn to the leaked version for a fully functional browser, that has proper rendering and doesn't kill our notifications.
Thankfully it seems the secret mole continues to deliver, and now Opera Mobile 9.5 built 1660 is available for your download pleasure from the usual XDA-Developer thread.
Hopefully some day Opera will make good on the promise of the Opera Mobile 9.5 browser, but in the mean time, happy browsing!