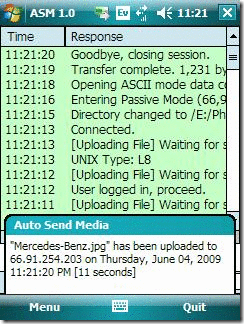 Auto Send Media (ASM) is designed to send photos & documents created on your Windows Mobile phone to designated e-mail addresses in real-time. It can also upload the newly created files to FTP server (most cable modem subscribers such as Road Runner have their own FTP server where they can upload files for personal web pages.)
The program automatically sends any photos taken by your phone's camera, or any newly created documents such as notes, spreadsheets to specified e-mail addresses and/or to an FTP server in real-time. This system eliminates the need to transfer camera phone photos or backup documents to your PC by docking it to the PC or remove the memory card from the phone then plug it into the PC to transfer photos.
You can specify whether to only send newly created media (such as photos produced by the phone's camera) or whenever a file is modified (such as a note or spreadsheet.)
This provides a feature missing from most other sync services – versioning.  By e-mailing documents to remote storage (such as a 10 Gb G-mail account) multiple versions of a file can co-exists, backed up securely and indexed by date, with the ability to easily refer back to older copies.
ASM can also be used as a standard FTP client to upload and download files between your mobile device and remote FTP server.
Features:
* Convenience: Automatically e-mail media such as photos and documents created in real-time as soon as they are created on your phone.
* Convenience: Automatically upload media to specified remote FTP server.
* Value-Added: Can be used as a standard FTP client to upload files on your mobile device to remote FTP server in manual mode.
User-friendly: Designed for minimal user intervention and effort to capture media created on your phone.
* Easy Access: Always available from the Windows Mobile title bar and a tap away.
Read more about ASM in the WMPU store here.