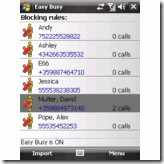 Easy Busy is like a fire wall for phone calls, allowing one to easily block selected callers, constantly giving them the busy signal until you decide otherwise.
Features:
Calls rejected by an instant busy tone (not interrupting your privacy)
Ultra-fast caller recognition (caller thinks the line is busy)
Blocking of selected contacts from your phonebook (full phonebook integration)
Blocking of manually added to Easy Busy contacts (for persistent callers out of your phonebook)
Log with all rejected calls (so that you can later check who has tried to reach you)
Discrete indicator on the phone stand-by screen that Easy Busy is running in the background (feature may not be available on some Windows Mobile phones)
Easy set-up and simple to use
Easy adding and removing of blacklisted contacts (to quickly switch when situation changes)
Auto-start on system startup (to never miss loading your Easy Busy phone guard)
The software is $6.99 and is tied to your phones IMEI, so can only be used on one phone.  A 20 phone call trial is however available.
Read more in the store here.