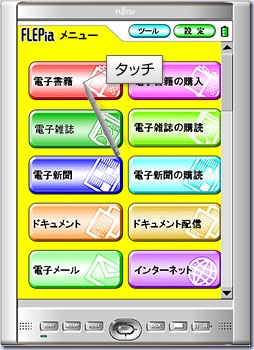 Fujitsu has demonstrated an Amazon Kindle-like large format e-reader.  Unlike the Kindle however the device will support a colour display while still maintaining a 50 hour battery life.
The Flepia's resolution is 1024 x 768 pixels, and has touch screen capabilities. It comes in eight- and 12-inch displays, and can display up to 4,096 colors.
The Flepia runs the Windows CE 5.0 core operating system on a Marvell applications processor, and has an expansion slot that accepts 1GB, 2GB, or 4GB memory cards. It also features 802.11b/g wireless networking, a USB 2.0 port, stereo speakers, and a headphone jack and is only 12mm thick.
Four Flepia devices made their debut last week in a Tokyo railway station restaurant, the "Termina Kinshicho Fujiya." According to Nikkei Business Publications, the electronic book readers will be available for public testing, displaying newspapers, advertisements, train timetables, and weather forecasts. See the short video below for a device in that surrounding.
 
More information on the Flepia may be found on the Fujitsu website, here.
Via Windowsfordevices.com.