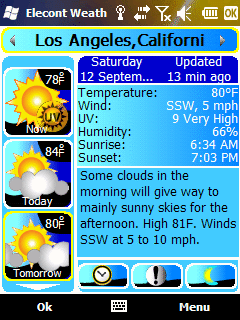 While the producers of operating systems divide the market of smartphones, the software industry produces more new programs and updates to them. Indeed the existence of quality programs for a particular operating system determines the popularity of this OS.
Elecont has released a new version of the Elecont Weather for Windows Mobile. Users of this program appreciate the quality of a 10-day weather forecast, hourly forecast for 36 hours, barometer, current conditions, weather and UV alerts etc.
In previous versions the user interface of the program was ascetic and simple. New major release introduces new user interface including rich graphics, animation, multiple color themes, Vibro-effects, gesture oriented interface and other features.
Along with usability changes new Elecont Weather expanded the list of locations for weather forecast. New locations added for Canada, France, India and others.
Users of previous versions can upgrade to the new one for free, New users have 30% discount on the program till the end of September. More details see at Elecont Weather for PocketPC
Free to try: Elecont Weather cab free trial or download directly to your smartphone by typing this tinyurl in your mobile browser: tinyurl.com/elecontweather