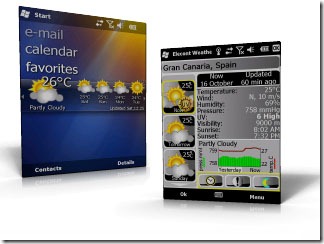 While the Windows Mobile 6.5 phones are arriving we're asking the question which programs will work inside the brand new Windows Mobile 6.5 Today Screen called "Titanium".
Elecont Weather, one of the most popular and useful plugins for Windows Mobile devices, now supports phones with Windows Mobile 6.5 Default Today Screen (Titanium). Elecont Weather displays current weather conditions and 10-day forecast on Titanium Today Screen. In addition to the Today Screen Elecont Weather reports all necessary weather information at the popup window – air pressure graph for the last 24 hours (what can be useful for weather-dependent people), 10 day forecast with detailed descriptions, hourly weather forecast the next 48 hours (what helps plan the outdoor activities), UV Alerts (what prevents sunburns), Severe Weather alerts (US only) and other weather-related info.
Elecont Weather receives forecasts from the world's leading provider – WSI Corporation.
At this moment Elecont Weather is the unique Weather program which runs on the all kinds of Windows Mobile shells including Home Screen, Sliding Panel, Today Screen and Windows Mobile 6.5 Default Today screen. It is important if you're planning to change or upgrade your device.
The detailed ten day forecast, 48-hour hourly forecast and the Barometer (which you can use to predict weather by yourself) makes Elecont Weather the most accurate weather plugin on the market.
During the next two weeks all purchasers will receive 30% off on Elecont Weather.
Read more and download free trial from http://www.elecont.com