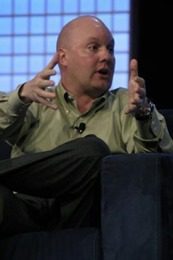 It seems one of the last people one would have thought to support Microsoft is currently rooting for the Microsoft/Nokia handset merger.
Marc Andreessen, formerly of Netscape, whose company was scuppered by strong competition from Internet Explorer, and was was part of anti-trust proceedings which ultimately left Microsoft shackled for more than a decade, thinks Microsoft does not only deserve a break, but deserves to be supported in trying to break the current smartphone duopoly.
Speaking to CNET at the Qualcomm's Uplinq conference he said the Microsoft/Nokia deal, which saw Microsoft purchase Nokia's mobile division, was not "that expensive of a deal," and that  the industry needs Microsoft to succeed to keep competition alive and well.
He said he wanted Microsoft to do well and encouraged developers to build applications for Windows Phone.
He noted that Google Play and the App store was crowded, with little space for new developers.
"Developers have to find a new platform," Andreessen said, adding that their apps have the opportunity to stand out on Windows Phone. "Microsoft will put substantial support behind developers because they need them."
We cant but agree with his statements, and we hope developers look beyond simply the financial return, which is not too bad on Windows Phone, to the very practical question of whether they want to have only two strong app stores  with arbitrary policies or whether it may not be better to keep competition alive by also rooting for the 3rd player.
Via CNET.com