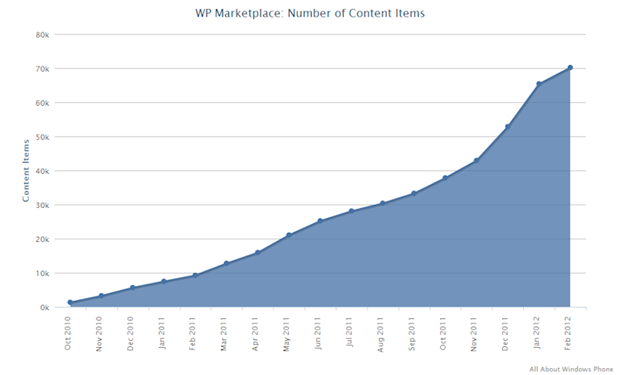 By AllaboutWindowsPhone's count, 70,784 apps have now been published in Marketplace, with 59,687 available in USA, 57,000 in UK, France (54,399), Spain (51,403), Italy (51,234), Germany (51,465), Australia (52,528) and India (52,346).
There are currently 250 apps being published to Marketplace each day, slightly slower than January, but Marketplace is still on tract to pass the psychological milestone of 100,000 apps by July 2012.
AAWP also notes the spammy category of ebooks have reduced from 14 to 12% of the market, indicating hopefully that Microsoft has gotten on top of the problem and that 8.5% of apps in Marketplace now have a 5 star rating, vs 6.6% 6 weeks ago, possibly indicating that the quality of apps are also improving.
Read more analysis at AAWP here.