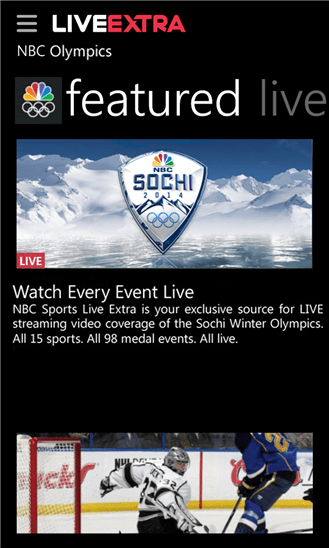 NBC Universal Media has released their NBC Sport Live Extra app for Windows Phone devices. Using this app, users can now enjoy more than 1,000 hours LIVE Olympics coverage for free.
The app offers more than 1,000 hours of live event coverage from NBC and its sister channels—so  you can enjoy everything from NHL Playoff games and Formula One racing to French Open tennis and Major League soccer. You'll also get live Olympics coverage from Sochi, including all 15 sports and 98 medal events, NBC says. Finally, the app makes it easy to know what's happening and what's coming, with up-to-date programming schedules and handy event alerts.
This is not a worldwide app that all of us can download and enjoy. It is only accessible in the U.S. and certain U.S. territories.
The vast majority of live streaming content on NBC Sports Live Extra will only be available to authenticated cable, satellite and telco customers via TV Everywhere. Further instructions are provided in the app settings section.
Download the app here from Windows Phone Store.