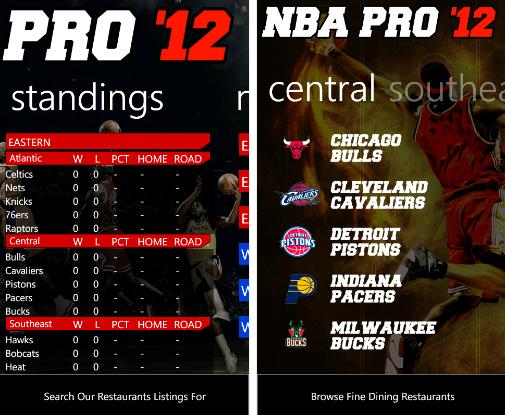 Neuralnet, the makers of popular NFL Pro '12 app has released their new app NBA Pro '12 app in Windows Phone Marketplace. NBA Pro '12 app allows you to keep up with the latest scores, up to the minute stats and standings and much more on NBA games.
 NBA Pro '12 Features:
– Fantasy Playoff Prediction: Personalize your own fantasy playoff prediction and pick who is going to win the NBA Finals this year! and compare it to everybody else's prediction.

– Favorite Team: Follow your favorite team and gain easy access to your team page

– Live Tile: Pin as many teams as you want on your start screen and get a glance at their next game

– Deep News and Roster: Check the Latest news for Every team in the NBA and full Roster with detailed information about all players

– Latest Videos: Check out the latest videos about the NBA and enjoy watching all the action on NBA Pro '12

– Live Sports Talk: Share your comments and knowledge with everybody else at your Team's Page and talk trash at the other team's pages
Download this free app here from the marketplace.