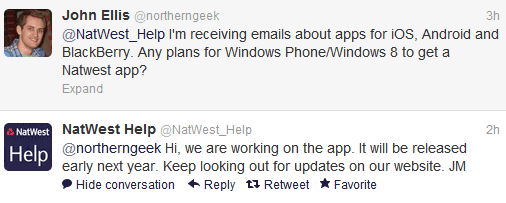 While we often report on Windows Phone apps, UK readers would have felt acutely left out, as so far none of the big 4 banks offer Windows Phone apps.
The most amusing answer about the issue from RBC's FAQ  is:
No, they are different types of phones. Currently, the RBC Mobile app does not run on Windows phones.
 We now however have some good news to report. According to Natwest's twitter support they are currently working on a Windows Phone app to be released early next year.
Hopefully the move is in recognition of the strides Windows Phone has made in the UK market, and will be followed by support by the other UK banks also.
See the tweet here.
Thanks Northern Geek for the tip.