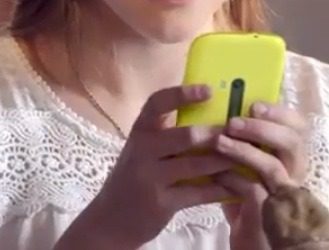 Nokia has denied any knowledge of the mystery device which showed up in a promo for the Nokia Lumia 920 in the Netherlands.
According to Nu.nl, who investigated the story, Nokia said  "It's not a Nokia phone, ask KPN"and KPN said "We are investigating the situation".
They later added that it was a prop designed for the ad.
The camera strip and the location of the flash certainly points to it not being a Non-Nokia handset, despite Nokia's denials, but it is very likely the actual shape may have been the result of a graphic artist rather than Nokia's design table.
Are our readers disappointed that this particular device, with its shape and size, was not real? Let us know below and see the mystery handset again at the 6 second mark after the break.
Via MyNokiaBlog.