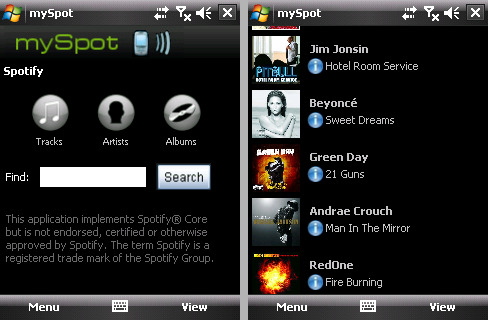 Pandora, Grooveshark, and now Spotify, are all popular music services that have a Windows Mobile app. Just recently an XDA member by the name of FryWalker has made an app for the service and even more recently updated that app. The application allows you to search and search music from MySpot's own servers if you are a member, but thats not all:
Features:
> Full implementation of the Spotify search and top list functions
> Play list support – easy access to all your favourite tracks (up to 150 tracks per play list)
> Choose your own media player (CorePlayer 1.3.6 is recommended*, or either of the following: GSPlayer (free), PocketPlayer)
> Album artwork shown by preference

Please be aware: whilst mySpot is a beta release it may not function as expected all of the time. The service may be unavailable at times. Testing is continuously being carried out to improve the performance and usability. All user feedback is welcome during this stage.
This application seems to be your only option if you use the service, but seems like a good choice that does it all. If you use the service download and install the application then give us a comment so we know how it went for you.