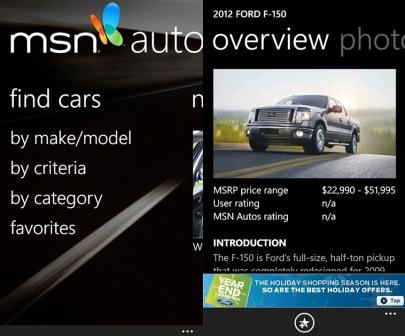 Microsoft today released its MSN Autos app for Windows Phone platform. The app lets you to browse through MSN Autos content from your Windows Phone device.
App Description:
MSN Autos for Windows Phone is your resource for new & used car news and research, whenever and wherever you need it. Check out photos, car specs, reviews and videos; tag cars as Favorites and catch up on the latest news and tips. The MSN Autos app is your resource for onsite research and comparison, so you'll be more confident when stepping onto car lots.

Whether you are seriously shopping or simply browsing for a new or used vehicle, the MSN Autos app lets you easily find cars by:
• Make & model.
• Criteria, including price, new/used, fuel economy, body style, convenience, and safety (even down to rain-sensing wipers).
• Category, such as economical commuter cars, affordable performance, fuel-efficient SUVs, etc.

From the car specs page, simply tap to research at the individual vehicle trim level. You'll get vital information about price, fuel economy, reliability, safety, overall stats and much more, including both expert and user reviews.

Want to keep a list of cars so you can research at a later time? Just save them as Favorites and you can return to them time and again on your phone. Or, log in with your Windows® Live ID, and your favorite cars also will be accessible across devices on MSN Autos.

Not in the market for a new car? The MSN Autos app lets you:
• Stay up to date with the daily car news and videos.
• Browse rich slideshows of the latest concept and production cars.
• Read feature articles about cars and the ownership experience.

MSN Autos for Windows Phone gives you the best features of one of the largest automotive research sites on the Web.
You can download this US only free app here.