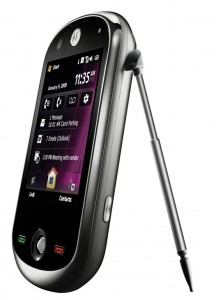 We knew the Motorola MOTOSURF A3100 would be available in Q1 of this year, but we certainly did not expect it so soon. Alas, this bit of Windows Mobile goodness is now available for pre-order, if you live in Taiwan, with shipping dates set between the 20th and 26th of this month.
Lets take a quick review of the specifications, shall we?
Display : 2.8″ QVGA with Touch Panel
Messaging : MMS, SMS, Multi-Head IM, Email
Audio : AMR, MP3, AAC, AAC+, eAAC+, WMA, MIDI
Video : MPEG-4, H.263, H.264 &WMV playback support
Camera : 3 megapixel auto focus, VGA secondary camera
Memory : 256MB Flash, 128MB RAM, MicroSD up to 32GB
Chipset: Qualcomm MSM 7201A
Software : Microsoft Windows Mobile 6.1 Professional
Connectivity : USB 2.0 – A2DP
Form Factor : Touch tablet smartphone
Navigation : aGPS
Battery : 1170mAh
Weight : 119 grams
Dimensions : 110×59.7×13.7mm
Yes we know, it is not the most impressive Windows Mobile driver out there, but it still is an improvement from many other WinMo offerings from Motorola. At approximately $477 USD contract free, the MOTOSURF will definitely be facing stiff competition at that price point.
There it is. Another Windows Mobile handset on the loose. Give us your thoughts in the comments.
For the original article go here. To pre-order the Motorola MOTOSURF A3100 go here.