The Enterprise Mobility Solutions division of Motorola, Inc. today announced the newest addition to its mobile computing portfolio – the ES400 global Enterprise Digital Assistant (EDA). The ES400's integrated voice and data capabilities unleash the full potential of mobile professionals by empowering them with the information and interaction they need to transform operations, increase enterprise profitability and complete their jobs anywhere, anytime.
Andy McBain, Motorola's EMEA head of enterprise mobility products, said at a London launch event on Thursday that some enterprises were showing "push-back" against the proliferation of consumer-grade smartphones such as the iPhone and Android handsets, and were keen for new enterprise-grade devices.
"One of the issues that has historically plagued field forces is that they need a fully enterprise device that is ruggedized, but the issue is the devices have always been too big," ABI Research's vice president of mobile Kevin Burden told ZDNet UK on Thursday. "The device has to fit the needs of the user as much as it fits the needs of the enterprise."
Key enterprise features include:
Customizable Motorola Enterprise User Interface (MEUI) makes business-critical information and functions available with one key press. Includes enterprise-specific enhancements like photo annotation.
One button push-to-scan: 1D and 2D bar code reading fulfilling the needs of mobile workers.
Large, super-bright, three-inch VGA screen (750 NITS – nearly twice as bright as consumer devices for usage indoors and outdoors) plus integrated keyboard.
Easy and accurate input with stylus and touch-screen allowing signature capture that is often necessary for completing field tasks.
Standard battery power to endure full shifts in nearly any work environment. An extended-life battery is also available.
True worldwide communications with user-selectable 3.5G WAN: GSM HSPA and CDMA EVDO RevA compatibility.
Broad WLAN functionality supporting 802.11 a/b/g, enabling data, and in 2011, an application for push-to-talk over VoIP compatibility.
Durable construction to withstand dust, drops and bumps occurring every business day. Meets MIL-STD 810G drop specifications leading to lower total cost of ownership.
Enterprise-class security including built-in biometric fingerprint reader.
Three-year life cycle for easier, better IT support and product management, support and service programs designed for business, adding to a better return on investment.
Built on the standards-based Windows Mobile 6.5 platform to power seamless connectivity, application compatibility and support for industry-specific applications and advanced security and device management mobility needs.
Full product specifications including GPS, camera, 3-axis accelerometer and user interface operation can be found at: http://www.motorola.com/web/Business/microsites/US-EN/ES400/index.html.
"Motorola recognizes that mobile teams are the lifeblood of an organization, and empowering these teams with unmatched features and functionality to eliminate road blocks in the field is critical to an organization," said Gene Delaney, president,  Motorola Enterprise Mobility Solutions. "The new ES400 EDA combines the best features of mobility, communications and task functionality without compromising performance or design – offering mobile workforces the ability to take action and capture information with a single click – in front of the customer where it counts most."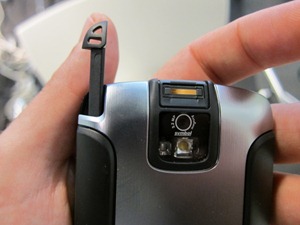 The new ES400 will be the first Motorola mobile computer to be carrier-branded, stocked and sold to enterprises through the Sprint Direct and Business Solutions Partners sales channels providing customers with access to a versatile device that meets the needs of the expanding enterprise. 
"This device was built with the business user in mind; with its compact size and advanced applications leveraging the Sprint 3G network, Motorola's ES400 is a breakthrough enterprise-class device that can meet the needs of business users who are constantly seeking ways to boost individual and team productivity," said Danny Bowman, president – Integrated Solutions Group, Sprint. "Sprint is ideally positioned to offer enterprise customers tools uniquely suited to meet their needs, and continues to build a reputation as an industry leader among business customers searching for cost-effective wireless devices and applications."
In Europe,  Andy McBain, Motorola's EMEA head of enterprise said Motorola expects to sell one to two million units of the ES400 in Europe alone over the next 12-18 months. The device has a list price of $750 (£507) and will start shipping towards the end of August. It will only be available through Motorola's channel partners, who will probably sell it with industry-specific applications, McBain said.
McBain added that Motorola is currently in talks with ten European operators who want to put the ES400 into their portfolios.
Motorola's new ES400 EDA will be available later this year to customers through the Motorola EMS sales team, Sprint and members of the PartnerEmpowerâ"¢ channel program. For more information on the ES400 EDA, please visit www.motorola.com/ES400 or www.sprint.com/ES400 .