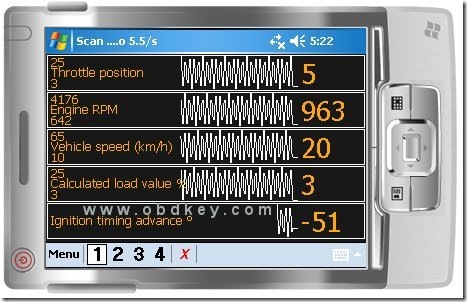 I dont know how many car nuts read WMPoweruser.com, but for those who do you certainly need to know about OBDkey.
OBDKey Bluetooth will allow you to connect to your car's diagnostic system and display all kind of data on your Windows Mobile Smartphone, all over power-sipping bluetooth.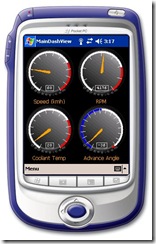 The Windows Mobile software, which is bundled with the £100 device, has the following features:
Supports Windows Mobile 6.0 (WM6), Windows Mobile 5.0 and earlier versions of Pocket PC.

Supports both landscape and portrait views

Requires a minimum of .Net Compact Framework 1.0 to be installed (the redistributable package is supplied) .Net Compact Framework 2.0 or better is required for Windows Mobile 6.

Displays live sensor data

Fully automated

Connection via Bluetooth or USB port (where the device supports)

Last connection recalled from memory for faster connection.

Access from COM1 to COM8

Day time and night time colour options to assist in dark or bright conditions

Reads diagnostic trouble codes

Clears the "check engine" (MIL) light, freeze frames and all trouble codes.

Diagnostic Trouble Codes (DTC) description for generic trouble codes

Log to a binary file for reading back with Microsoft Excel or other data and spreadsheet packages.

Display sensor data in SI (metric), US (imperial) or UK (as SI, but with miles shown for distances) units.

Graphed sensors show maximum, minimum, and current values.

Performance monitors included for time and distance measurements between two speed settings (e.g. 0 to 60 mph) and fixed distance runs (say 1/4 mile testing)

Fully automatic demonstration mode supported.
See the device in action in this video clip below:
Read more about the peripheral, which also supports connections to Windows laptops, at obdkey.com here.