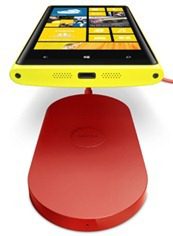 Nokia Conversations has expanded a bit on their partnership with Virgin Atlantic to provide wireless charging pads in their lounges.
According to the post Virgin Atlantic will install the stations in their Heathrow Clubhouse, followed later by stations in JFK Airport.
Sarah McIntyre of Virgin Atlantic called wireless charging a 'perfect opportunity' to enhance the Clubhouse experience for Virgin Atlantic's customers, saying:
"A lot of our travellers come into the Clubhouse, they've got a couple of hours and they want to do some email work, they want to catch up with friends and family, they are checking their devices and obviously they don't want to arrive at their destination with a dead phone."
Nokia's executive vice president of smart devices, Jo Harlow said that Nokia hopes to make wireless charging as ubiquitous as WiFi.
"Virgin Atlantic is putting passengers first by removing a major anxiety, particularly for business travellers – how to keep their phone charged throughout a long day."
The phones use the Qi wireless charging standard, and due to this may finally bring wireless charging into the mainstream for smartphones. Some products from 120 companies are certified as compliant with the Qi standard, Computerworld reports.
There are 8.5 million Qi capable devices sold worldwide. The largest market for wireless charging is Japan, where it's almost impossible to purchase a mobile phone without the capability embedded in it, leaving the possibility open of purchasing 3rd party hardware to wirelessly charge your Lumia of Nokia's accessories prove expensive.
"The technology has improved to the point where it takes just about as long to charge your device wirelessly as it does with a cable," Gartner analyst Ken Dulaney said. "And combined with Bluetooth you really could see a day where you could give up the cables in your bag."