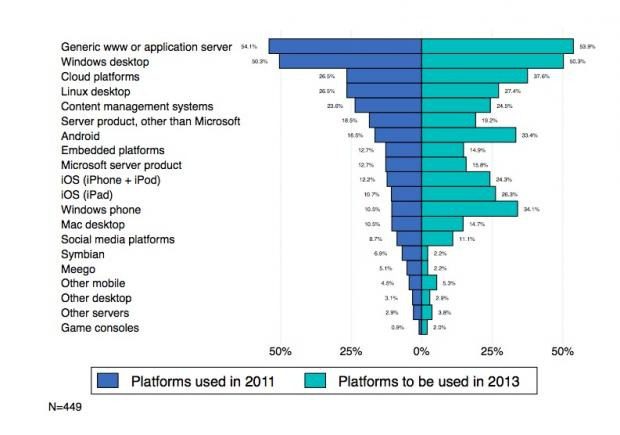 Finland is either a very special case for Windows Phone, or a a harbinger for the future. Finnish developers are clearly hoping it is the later, as a survey by researchers at the Finnish Aalto University has found more developers aim to develop for that platform in 2013 than for iOS or Android.
From the survey 34 percent of Finnish developers plan to be building for Windows Phone, up from 10% in 2011,  33.4 percent for Android (up from 16.5%)  and 24.3 percent iOS (up from 12.2%).
The increase is not just due to loyalty to Nokia.  Windows Phone has had real success in the country and the developers aim to deliver services to local business.
"A large share of Finnish software companies are serving other Finnish companies. Because of the earlier popularity of Nokia phones in Finnish enterprises, many software vendors probably assume that Nokia phones will be popular in the future as well," said BIT Research Centre's researcher manager, Mikko Rönkkö.
The common platform between Windows Phone and Windows 8 may also be encouraging developers.
"They're not making the next Angry Birds, but there are a lot of these small business-to-business firms that have been able to sell this software to small manufacturing plants perhaps. And they think, OK, it works on Windows, so why don't we try it a mobile version of this," according to fellow researcher Juhana Peltonen.
"Certainly it's risk-taking, but you could say if Windows Phone takes off, then Finland could be in a good position — and not just through Nokia," says Peltonen.
Lets hope the bet pays off not only for these developers, but also Nokia and Microsoft.
Read more at ZDNet here.