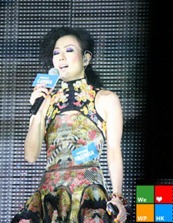 WeloveWP.hk have posted some more  details on the Nokia Lumia 800 launch in Hong Kong, which was attended by famous singer Sammi Cheng who received a full set of Lumia 800 of three different colours.
Nokia's website will start accepting pre-orders for the handset on the 2nd December for HKD$4398, and buyers can pick up the handset in person on the 12th.  The first 2000 pre-orders will also get a free in-ear Nokia Purity Stereo Headset by Monster, which costs around HKD$1000, which is a pretty good deal.
Interestingly the phone will however not come with Nokia Music and Nokia Drive, and it is not clear if it will be available in the region.  Nokia Hong Kong said they would attempt to address this issue.
Like everywhere else the handset will also not come with internet sharing, but a fix for this is promised eventually.
The Nokia Lumia 710, the lower-end device, will hit the market between the 13th and 31st December and will cost between HKD$3000 – 3498, cheaper than the HTC Radar.
Nokia did not announce when the handset will be available in stores, but it is likely around the 12th to 13th December.