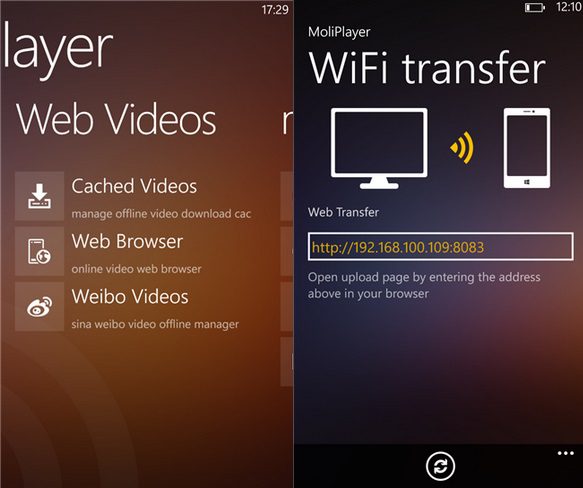 The popular 3rd party media player MoliPlayer got updated to v1.3.2.15 with support for Windows Phone 8.1 developer preview and more.  This app already features the ability to play almost most of the popular video formats like avi, mkv, vob, flv, mp4, etc,. Also it includes easy wireless video transfer from your PC browser in WiFi network.
v1.3.2.15 Release Note:

New Feature – Fully compatible with Windows Phone 8.1;
Optimized – Auto-lock screen is available as video paused if the function was enabled. Resume playing as screen unlocked;
Optimized – IPv6 garbled character;
Optimized – Playback performance and experience of English Language;
Optimized – Web videos UI;
Optimized – Share buttons;
Fixed – Unable to pause when calls coming;
Fixed – Crashed when sharing to Wechat friends with music playing;
Fixed – Crashed when Playing MTV with in-build web browser;
Fixed – A interference problem when playing web videos under WP 8.1;
Fixed – Other bugs;
It costs $2.99 with free trial available. Find it here  from Windows Phone Store.