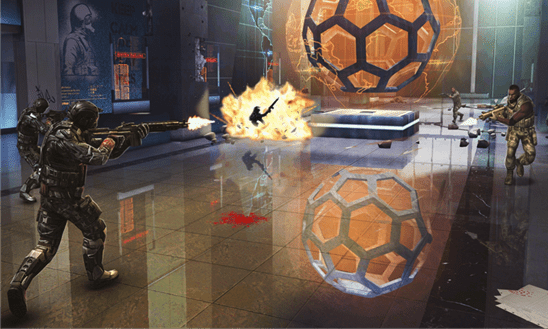 Gameloft's FPS Modern Combat 5 : Blackout has just received a major content update v1.7.1.4 in Windows Store. This update includes new matchmaking system, new weapons and more.
Step into the action as the latest installment in the best FPS series raises the bar for shooter games once more! Create a squad, add your friends and test your individual and team skills against other squads! Is single player your thing? Then step into a world on the brink of anarchy and shoot your way out of one dire situation after another to expose a lunatic who's trying to tear the world to shreds.
Change log:
NEW MATCHMAKING SYSTEM

Our improved multiplayer matchmaking system will ensure the odds are as even as possible by matching you against users of roughly the same skill

NEW CLASS AND WEAPONS

The Bounty Hunter joins the fray
All-new Experimental Weapons

BOOSTED EVENTS

Choose from a wealth of game-altering boosters — activate them at the right moment and take the match by storm

WEAPON UPGRADES

Improve your effectiveness against armored targets by upgrading the new Armor Penetration stat on your weapons
The higher the tier, the more you can upgrade the weapon

MORE REWARDS

All players who update will receive some cool rewards
Players will now have a chance to win items at the end of every match
More BANG packed into each daily login reward
More Credits in every Credit Pack you get

IMPROVED CONTROLS

Customize key controls Adjust sensitivity Support for AZERTY keyboards

NEW VIP SYSTEM

Earn VIP status, and get all its major benefits
Download the updated game for free from the Windows Store here.
Developer: Gameloft.
Price: Free+