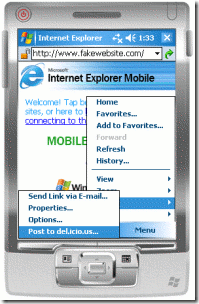 While PIE has long synched bookmarks with desktop internet explorer through activesync, this has always been a rather messy business, and requires one to dock ones phone to your PC or laptop, something which is increasingly rare these days.
Mobilicio.us is a new service which allows one to access your Del.icio.us bookmarks in an easy to use web interface, which has the advantage of adding the social element and also keeping all your computers, desktops and laptops in sync.
Of course that still leaves being able to add your Del.icio.us bookmarks from your smartphone.  PosttoDelicious is a small app which adds a Post to Delicious menu item to Pocket IE, allowing one to easily add your current web page to your online account.
Unfortunately both the plug-in and even Mobilicio.us web page seems to formatted for more limited mobile browsers like Pocket IE, rather than wizzbang ones like Opera Mobile, but strangely enough PIE still has many adherents who love the speed and efficiency of accessing mobile websites, and for these souls the above applications is ideal.
Visit Mobilicio.us here, and download PosttoDelicious from here.