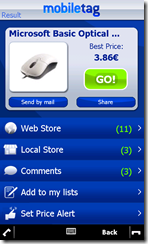 After seeing ShopSavvy being delayed interminably, its nice to see another application arrive that does more or less the same  thing.
Mobiletag is a barcode scanner that allows one to read any type of direct or indirect barcodes (Datamatrix, flashcode, fotokody, QR Codes, 1D UPC, EAN 13), by simply using your Windows Mobile device's camera.
The software integrates with a database of online stores and allows live price comparison, meaning even when out and about in a store one can still look for the best deal online.
Read more at Mobiletag.com here and find the download at FreewarePocketPC here.