The picture is not pretty, but what it represents is – Mozilla running in the Windows Mobile emulator, rendering a web page.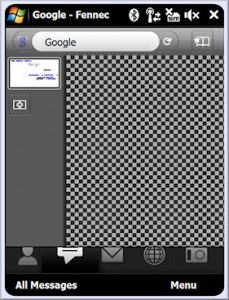 The new version of Firefox mobile, code-named Fennec, is already running on the Linux-based Nokia N810 tablet, but early released on the Windows Mobile platform will occur "within the next few months", according to Jay Sullivan, Mozilla vice president of mobile.
Follow the progress of Firefox on Windows Mobile on Brad Lassey's blog here.