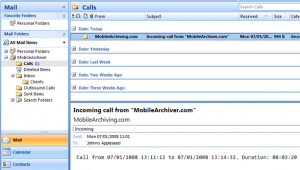 Every once in a while a bit of software comes along which makes one wonder why it has not always been like that. Mobile Archiver, which automatically and transparently syncs your SMS and phone calls record to your outlook inbox, therefore creating a searchable backup, is one such piece of software.
The software features:
* Install and forget: MobileArchiver will sync automatically in the background
* Archive, search, and organize text messages in Outlook
* Archive, search, and organize call details in Outlook
* Search text messages from Google Desktop and Window Desktop Search
* Forward text messages to email users
* Regain space on your phone
* Integrates with Windows Mobile contact list
* Print
* Very low resource usage: MobileArchiver only runs when needed
* Support any Windows Mobile Smartphone or Pocket PC Phone Edition device
* Free upgrades to all dot releases with purchase
Unfortunately not free, the software is still affordable at $19.99, or lesser amounts if its just sms or phone calls you wish to sync. If you are some-one who works from their mobile phone, or if you live in outlook like I do, this software is worth it even at double the cost.
Read more and download the software here.