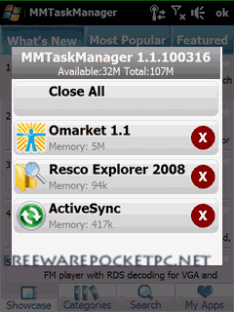 Having the ability to switch between tasks and close running applications is one of the features I am not going to miss in WP7 but still love in WM6 and MMTM is the best at it. MMTM is one of many different task managers that are available for Windows Mobile. Its does the same thing as others but in a recent update the application now brings an Android like popup box that gives you the ability to close all other running applications or switch to them.
Here is the change log:
MMTaskManager is a small and simple task manager that allows you to easily and quickly switch between current running applications. It also allows you to close any selected application or all applications right on your finger tips.
In additional to closing applications, MMTaskManager reports how much memory each of the application uses to see which application takes up the most space in memory. The app also display the total amount of memory your device has as well as available memory.
Features
– Task Switcher
– Fully close a running application by tapping on the X button (both WM 6.5 and WM 6.5.x)
– Position fix for old apps running on WM 6.5.x
– Soft reset
– Memory usage report (Total, available, app usage, etc)
– Multi-language
– Skinning
If this interests you… Download the task out of it