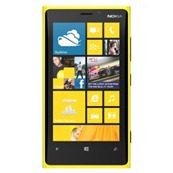 V3 Labs has posted a brief review of the Nokia Lumia 920 based on their hands-on with the phone at Qualcomm's IQ Berlin 2012.
They note the device appeared very similar to the Nokia Lumia 900, including in size, being 2mm taller, wider and 1mm thinner.
In hand they said however that the device felt completely different, being significantly shiner and smoother, with the curved glass making it feel more ergonomic than the 900.
In their hands-on the 4.5in Nokia PureMotion HD+ WXGA IPS LCD display "looked amazing" and looked better that the HTC One X, which is widely felt to have a better screen than the Samsung Galaxy S III.
On performance, they said they raced the Lumia 920 against the HTC One X, which has a quad-core processor, in terms of web page load speeds and smoothness of navigation and noted it was "all but impossible to tell which was faster."
Unfortunately they were not allowed to test the camera or much else, but they concluded that compared to the Nokia Lumia 900 it was a "radically different handset, featuring greatly improved tech and software" and that they "were impressed with our initial demo".
Read more at V3.co.uk here.
Via MNB