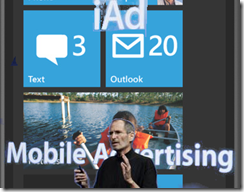 Microsoft has released an update for their ad solution for Windows Phone 7. Up to now it only supported Silverlight apps but a recent update allows developers to earn ad-supported money from XNA apps also.
For XNA apps this is especially important, as XNA does not support network connections, making it difficult for developers to embed other ad networks.
As we have discovered from the last post,  ad-supported apps can be more lucrative than traditional fee-based applications, so  this development could actually turn out to be very important indeed.