Continuum and Windows Hello (Beta), are two of the selling points for Lumia 950 family and many would be buyers are chomping at the bit to know exactly what else Microsoft has packed in it's new OS build.
With a bit of creative Googling (sorry Bing you are not a verb), we were able to find out more about several new features of the new OS. Some were a bit mundane like podcasts, and such. The few below are the ones that most people would be interested in.
Here's what Microsoft has to say about Windows Hello:
Windows Hello is a more personal way to sign in to Windows 10 devices. It recognises your eyes to verify your identity, which means that you get enterprise-grade security without having to type in a password.
Some Lumia phones running Windows 10 are ready to use Windows Hello now, and more devices that have iris recognition are coming soon.

On Start, swipe over to the All apps list, then select Settings > Accounts > Sign-in options.
 Once you're set up, you'll be able to unlock your phone at a glance.
With Windows Hello, your Lumia 950 or 950 XL can unlock your phone using iris recognition.
Set up a sign-in PIN. On Start, swipe over to the All apps list, and then select Settings > Accounts > Sign-in options > Add.

Under Require sign-in,  choose how often your phone requires sign-in.

Set up Windows Hello. Select Set up, and then follow the instructions. If you wear glasses, remove them during the first setup. After that, select Improve recognition, put your glasses back on and follow the instructions again.

To unlock your phone, press the power button. Hold the phone up in front of your face (just like during the setup), and wait for your phone to recognize you. If that doesn't work, swipe up on the lock screen and enter your sign–in PIN.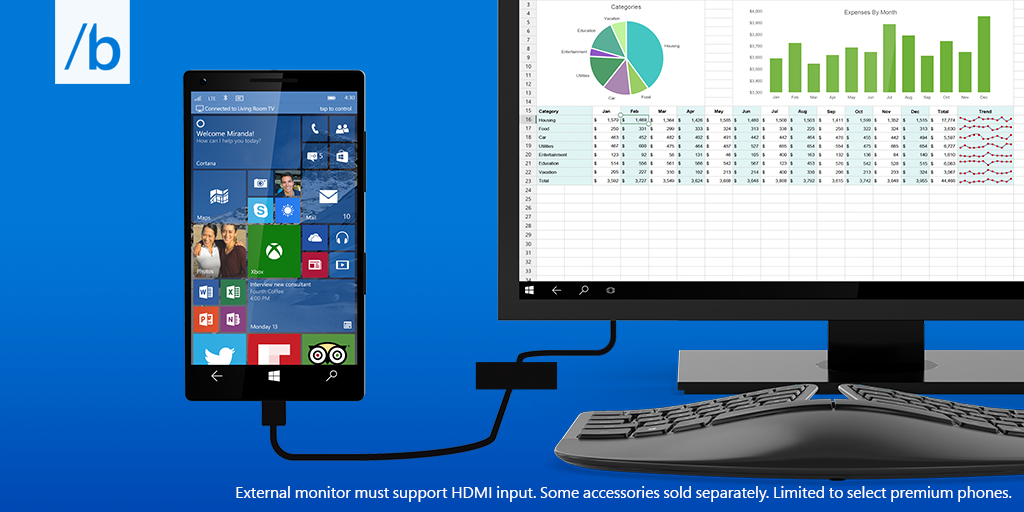 The continuum FAQ confirms what we know about it, it works with both wired and wireless hdmi, and the interface is a continuum "app" .
Plug the adapter into a power outlet.

If you're connecting to a TV, make sure the TV's input is set to HDMI.

Plug the adapter into the HDMI port on your TV or monitor.

On your phone, from Start, swipe over the All apps list and select Continuum.

Select Set up.

Select Wireless, and then Connect.

On the Connect screen, select the name of the TV or monitor
Known issues or bugs that may pop up are detailed below.
If you're not seeing anything on the connected TV or monitor:

Check that all the cables you're using are plugged in.

Make sure your dock or adapter is connected to the correct HDMI port (there may be more than one).

Review the setup instructions to be sure you didn't miss a step.

If the picture isn't looking right on-screen:

Go to the settings menu on your connected TV or monitor.

Look for picture, image, or display settings.

Select the setting that fits the picture to the screen (if available).

If that doesn't work, change other display settings until the picture is properly positioned and scaled.
Here's the latest on USB OTG support:
Windows supports many devices, including keyboards, mice, hubs, storage, audio (such as speakers and headsets) and Bluetooth dongles.
Some other devices, such as the Arduino, are also supported. Check with the device manufacturer to see if your device is supported.

To see if your Windows 10 Mobile device supports USB device connections, select Start, enter Settings, select Settings from the list, select Systems > Devices > USB.
To top it all off, here's a list of supported printers for those who use Windows 10 Mobile's newly minted printing powers.
Straight from the horses mouth, here are the under the hood upgrades that many current gen devices probably won't see.
Nevertheless, what do you think of the new functionality unlocked in Windows 10 mobile? Let us know in the comments below.