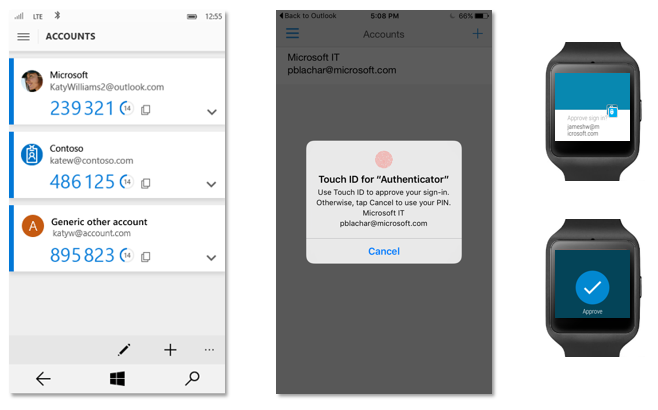 Microsoft recently released a new "Microsoft Authenticator" app for iOS, Android that combines the features of the already available authenticator apps into a single app which works with both Microsoft accounts and Azure AD accounts meaning there will be only one Microsoft Authenticator app which will serve both enterprise customers and consumers.
The app features:
User experience refresh. We've made the app experience incredibly simple while maintaining the highest level of security.
Best in breed MFA experience through one-click push notifications. You only need to click the "approve" button in the notification to complete your login. (And in most cases, you won't even need to open the app to complete the approval.)
Support for wearables. You can use an Apple Watch or Samsung Gear device to approve MFA challenges.
Finger prints instead of passcodes. We've added support finger print based approvals on both iPhone and Android.
Certificate based authentication. Support for enterprise customers to sign in through certificates instead of passwords.
The apps for iOS and Android have already been released, and today Microsoft has confirmed that the Windows Phone app has also been completed, and will be released by the end of the week.
Microsoft also had some updates coming for iOS and Android users.  iOS users can expect push notifications to soon be enabled, with the feature currently in testing and expected by the end of the month.
Microsoft also said biometric support will be coming to iOS and Android users to unlock the app even for those who have not set up a PIN. Currently the feature is only available to users who have a PIN enabled in the app. Microsoft promised this "in the near future."
Microsoft has posted an updated FAQ about the app on their website here.