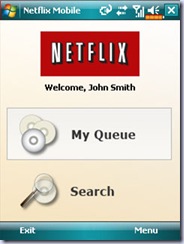 It should come as no surprise really, but it turns our Microsoft has hired Spb Software to create their ground-breaking Netflix queue management application.  The Mobile Manager for Netflix is an on-device application that seamlessly interfaces with the Netflix web service, allows searching the entire Netflix library, viewing the movie details, managing the DVD queue, and adding movies to Instant Queue directly from Windows phones and play trailers of movies, directly on the handset screen.
Steve Hegenderfer, group product manager at Microsoft, Corp, said "We are very excited to work with Spb Software to bring the popular Netflix service to our customers, giving them easy access to their account and favorite movies while on the go."
The Mobile Manager for Netflix was developed in cooperation between Microsoft, Netflix, and Spb Software. The application interface is built on the Spb Mobile Shell UI engine (also used in such popular applications as Spb Wallet, Spb Online, Spb Weather, Spb Traveler), and allows optimizing the efficiency of the user interface and speed of service navigation. With this fast and finger-friendly UI, the Mobile Manager application streamlines the Netflix mobile user experience, allowing subscribers to preview movie trailers on the go, add selected items to the DVD queue, or the Instant Queue – to instantly watch movies on TV screens using Microsoft's Xbox 360.
Mobile Manager for Netflix can be downloaded from Microsoft here.