Is Copilot the best AI companion out there? Help us find out by answering a couple of quick questions!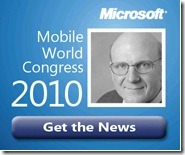 Good news for Windows Mobile users eager to get every detail of Microsoft's likely historic Mobile World Congress announcement.
Via MSMobiles, we hear that not only will it be streamed live on the internet at www.microsoft.com/news/windowsphone, but will also be broadcast on satellite TV.
It will be on Eutelsat at the following details:
Timing: 1630-1645 UTC
EUTELSAT W3A 7 deg East TXP B1 CHANNEL 9MHZ SLOT 1L9 (D1)
UPLINK FREQ.: 14314 MHZ POL Y BY E-120
DOWNLINK FR.: 11014 MHZ POL X
SD 625 16:9 50Hz DVBS QPSK 6.6665Ms/s FEC 7/8,
RoF 0.35 (11_SD MPEG2 422 10.7514 Mbps)
OP MODE: HIGH QUALITY
AUDIO:1 SOUND MONO
AUDIO:2 SOUND MONO
Again, MSMobiles confirms that Steve Ballmer will be there, underlining the importance of the expected announcements.
Will you be watching?  Let us know below.
Read more at MSMobiles here.