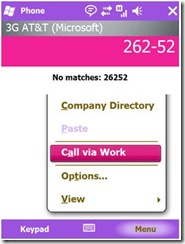 Microsoft Office Communicator Mobile is like Google Voice for Business. The software allows for call management features where you can take office calls where-ever you are, have multiple extensions ring and smoothly transition for office VOIP to cellular calls when you leave the premises.
The team has just released an update for the 2007 version, and it brings a variety of cool features.
With the Microsoft Office Communicator Mobile 2007 R2 update you can automatically connect to conference call  participants when you open a UC conference invitation in Outlook Mobile.
You can also make a call via your office PABX directly from your phone dialler and even dial extension numbers to call their colleagues. Your colleagues will never know you are in Starbucks instead of your desk.
There are also a new Titanium plug-in for Windows Mobile 6.5 which will show your presence status and the number of ongoing conversations, and callbacks from your PABX is now automatically accepted.
Get the Office Communicator Mobile 2007 R2 update via your mobile phone at www.GetCoMo.com or on the Microsoft Download Web site.
Via WMExperts.com