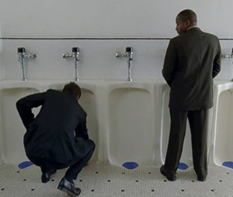 A Really Ad for Windows Phone
Darren Huston is the Corporate Vice President of Microsoft's Consumer & Online (C&O) organization and is responsible for Microsoft's global display and search advertising sales and marketing across Microsoft's consumer products including Windows, Windows phone, MSN, Windows Live, and Bing.
He is however soon to leave the post, to take up a position at Bookings.com, the hotel reservation chain.
He has been in charge of Microsoft's ad campaigns such as  Windows Phone which has been iconic but not successful in firing up sales.
His departure has been rumoured since April this year, when Yahoo's Carol Bartz, herself now disposed, blamed Microsoft's AdCenter for poor ad targeting.
Microsoft was rumoured to have spent $500 million on promoting Windows Phone 7 (possible $100 per phone sold), and is expected to launch a renewed push for Windows Phone Mango, especially in conjunction with Nokia. It seems some-one else will now be in charge of that ad spend.
Microsoft has not announced a successor yet.
Via Clickz.com