Microsoft at MWC 16 didn't have much of a presence compared to last year If you recall, last year was the year when Microsoft announced the Lumia 640, 640 XL and showed off some more Windows 10 Mobile features. It wasn't much, but it was interesting. There were also other Windows Phone (referring to the previous brand of Windows on phone devices) from other OEMs shown off like Freetel's Katana and Acer's very low-end Liquid M220.
The Windows on phone ecosystem was all Microsoft last year, and that wasn't very encouraging to fans of product diversity.
This year, Microsoft has taken a step back from MWC. After announcing its entire Windows 10 Mobile product line-up before MWC, it was left up to its partners to step up. Step up they did, in a really big way.
This year, Microsoft's booth at the Mobile World Congress was filled with several – actually decent – devices from alternative OEMs supporting the latest iteration of Microsoft's flagship OS. From HP's stunning HP Elite(some features of which HP might bring to other devices via apps), to Acer's curved Jade Primo all the way down to the recently announced Lumia 650. Microsoft's booth had all the Windows phone and tablets running Windows 10 Mobile.
Gallery
I also managed to play with Windows 10 Mobile on  a small tablet for a few minutes, and while it does have better usability than Windows 10 Home or Pro, I wasn't quite convinced yet – although that may be more due to the quality of the screen and Microsoft's overly large scaling than with the tablets themselves. We'll need more time with Windows 10 tablets to figure this out in the future, but otherwise I assume that the experience will be much better on a day-to-day basis due to being basically maintenance free.
Of course the Surface Pro 4 and Surface Book made an appearance in all their sleek, magnesium glory. Huawei's Mate Pad sat next to Samsung's Galaxy Tab Pro convertible on the convertible table and Alctatel's 10 Plus tablet brought up the rear side by side with Lenovo's Miix devices.
Gallery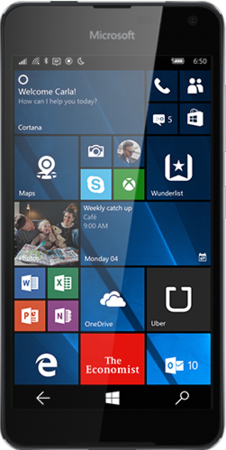 Huawei's first Windows device is a really lovely device. The company's experience in making lovely metal Android phones shows in almost every aspect of this device. It is thin, it is light, it looks expensive and it feels great. There's a fingerprint sensor on the side where your hand naturally rests on holding the tablet, and a folio case for easy handling and use as a tablet. In person, the device looks quite similar to the iPad Pro in terms of overall aesthetic – especially the gold trim one. It comes with a pen for writing or sketching with OneNote or on any other app that supports inking, though with no way to stow the pen. While some would find this annoying due to having to put the pen away everything, I will admit to stowing my Surface Pro pen in my backpack due to using the Pro 4 accessories on a Pro 3 tablet. I find that if you're reasonably careful with the pen given its price and usefulness, you won't lose it.
Samsung's Galaxy Tab Pro has a typical high-end Samsung tablet design. It looks nice, it feels nice, it's very thin and all that – but the nicest thing about it is the screen. Samsung's Amoled screens shine once more on this device, and everything just pops. The colours are clear and vivid, and the contrast is brilliant. Samsung also provides an extra set of device settings via a Samsung universal app for you to customise the screen and other device options (which we weren't able to see because TPM was disabled). I didn't get a chance to test out the speakers, but I'm pretty certain they'll be decent quality. Like Huawei's Matepad, Samsung's tablet is a great device for people who want a Surface like experience, but aren't particularly enthused by the Surface. The only black mark is that none of these devices are as insanely powerful as the Surface Pro 4 and Book can be. On the other hand, if you really do want a Surface, you could easily get one. That's the value of choice and something you can't really get in the Apple ecosystem or the Android ecosystem as far as tablets go.

Aside from the consumer devices, Windows Embedded devices were also on the show floor here, including one device from HP and Microsoft which served as a dedicated hotel concierge. The business focused Surface Hub was here, Continuum was showcased on multiple (non-Lumia) devices, and the Lumia camera team were there to answer questions about the amazing cameras that ship in the current Lumia flagships.

Microsoft also held an Insiders event on the first day of MWC in Barcelona. There was food, drinks, Gabe Aul, Rudy Huyn and other Windows fans present. Of course a real life meeting between Gabe Aul and Windows Insiders went just as you'd expect, with requests for a Surface Phone being tossed around and bugs being highlighted, but over time it mellowed out and became more enjoyable.

Overall, while Microsoft didn't have a huge presence at the Mobile World Congress this year, they are more than likely to have more for Windows fans coming down later. Including today's Xbox event where likely a few games will be announced, and Build 2016 where more platform focused goodies and likely Redstone will finally make their way to the light. Of course the Windows 10 Official rollout for mobile phones will be happening soon, most likely being held back to delay a loss of features between Windows Phone 8.1 and 10(see history tab in people app), and to ensure that the OS is stable enough for non-insiders. Its worth noting that anyone who desperately wants Windows 10 Mobile would have it by now, so Microsoft has likely factored that into the delay. In any case, MWC was just the beginning, and there is much more to come down the line this year for fans.