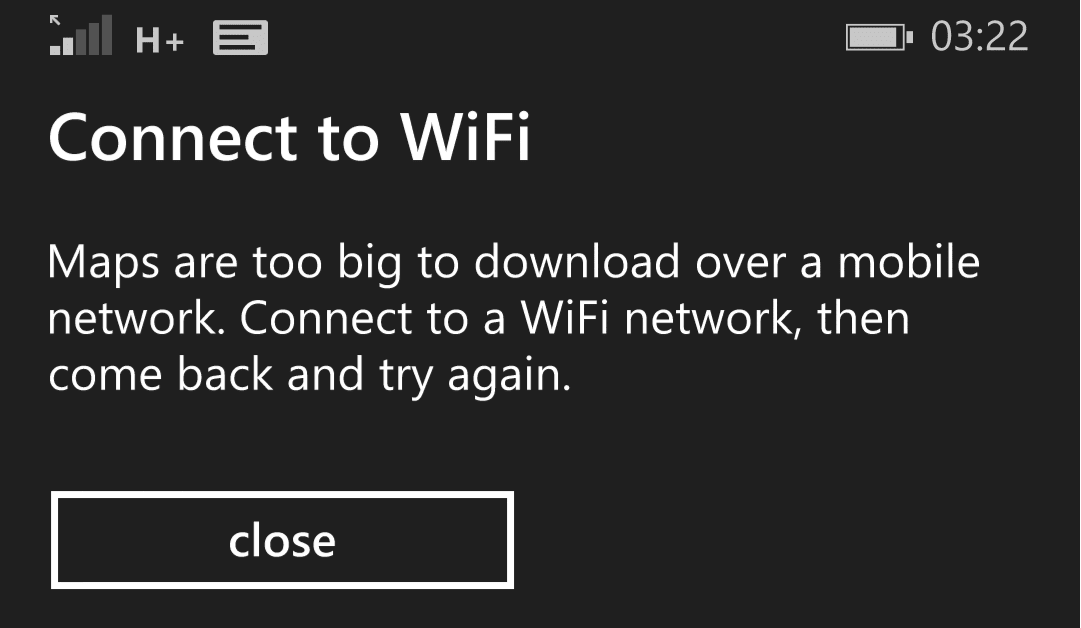 I nearly had a rather bad experience with my Windows Phone yesterday.  After a hard reset and restore related to Windows 10 Mobile, I needed to make a journey across London without knowing the way.
Of course I had forgotten that despite my phone looking exactly the same after the restore, my downloaded maps have in fact been swept away.
When I attempted to download the maps while driving Here + of course refused to make the 545 MB download, saying it required WIFI.
Fortunately I also had Copilot installed, which had no such qualms or restrictions and let me make the 500 MB download over LTE in little more than 5 minutes, and managed to get me to my destination safely.
While driving I also wanted to listen to a podcast, and once again Windows Phone's built-in data caps frustrated me.  Podcast Lounge refused to download the 36 MB podcast, saying it was too big and needed WIFI. It was however perfectly happy to stream it, which is how I enjoyed it in the end and fortunately I did not encounter any tunnels to interrupt the connection.
While Microsoft may argue that these restrictions are there to protect users, the real reason is likely to keep carriers happy by keeping WLAN data usage low, and thereby encouraging them to promote Windows Phone.
Microsoft is not in the position to be delivering bad experiences to their users  and placing the interest of carriers ahead of owners, especially when handsets are often purchased unlocked and Pay as You Go is so common.  Offering a dismissible warning or even repeated warning is more than enough to protect users from unintended data charges. With many users in emerging markets being mobile first and with no easy access to open WIFI its time for Microsoft to drop all internal data restrictions and let users have full access to the data connection they paid for.