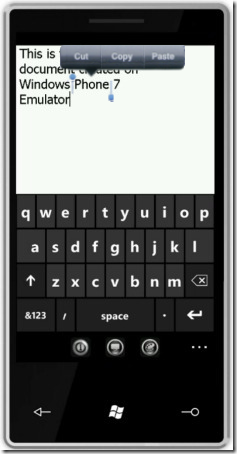 Microsoft senior director Paul Bryan has had an interview with Techradar and has made some encouraging noises.
First he confirmed the new OS will support an multiple Exchange protocol accounts:
"We can do more than two – there's no limit," he said, useful when Gmail, Hotmail and nearly everyone else is running Exchange Activesync.
He then went on to promise Cut and Paste, ironically left on the cutting floor and trimmed from the feature list in place of high priority items.
"We ended up getting to the point where we said we need to deliver a great experience and there are certain things we can get done in this period of time and certain things we can't."
"Do we need it? Yes. Is it coming at some point? Yes."
He also acknowledged that lack of native code would prevent alternate browsers on Windows phone 7, but promised to make exceptions if there was enough demand.
"You won't see native code Opera or Firefox at launch," he said, but continued "We're always working with our partners to work out what makes sense. If the market demands an alternative browser, then we'll enable our partners to do that."
He ended up promising devices for Holiday 2010, which he defined as "between October and New Year".
Read the full interview with more detail at TechRadar here.