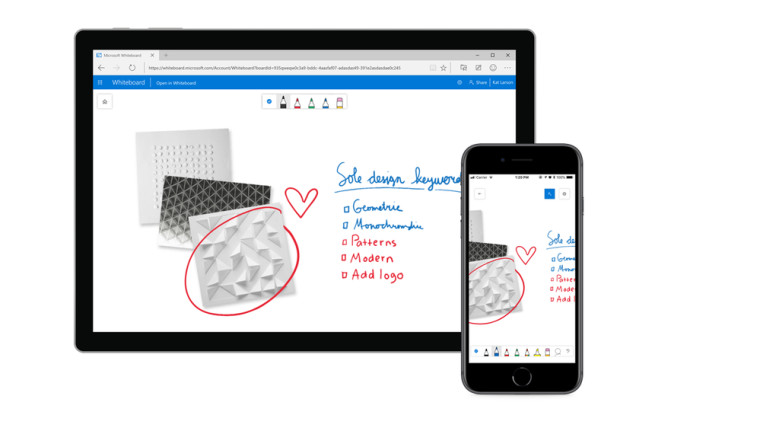 Microsoft has rolled out a new update for the  Whiteboard app for iPhone users.  The app, which was first announced by Microsoft back in July, and debuted for Surface Hub users, is a way to allow users to collaborate and work together.
Whiteboard brings every member of a team together, whether they're huddled around a wall-size touchscreen or working independently from their own laptops, tablets, or mobile devices.*  And because Whiteboard automatically saves your boards to the cloud, you can always pick up right where you left off, whenever, wherever – and now from a broader range of devices.
In the latest update for iOS, which takes it to version 1.1811022, the app gained a number of useful features:
Lock any image to the whiteboard background and never worry about accidentally erasing, moving or having to recreate template-like content again.
Make sure your whiteboard is easy for people of all abilities to read and edit with a new Accessibility Checker.
Access improved sticky note editing experience. Just double tap to add text & let your ideas flow fast.
Your recognized shapes and tables now have a hand-drawn effect applied to them to help you impress your peers with your penmanship.
When opening a whiteboard, we now show you a fancy loading animation to help pass the time (and so you don't sit wondering if anything is happening).
A sprinkling of usability, performance and bug fixes to make your whiteboarding experience a bit more polished.
Microsoft Whiteboard app is available for Windows 10, iOS and Web. Find the app in various stores below: