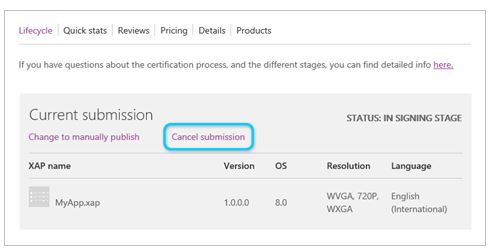 Microsoft has recently updated its Windows Phone Dev Center website. This update brings three new features that will improve the developer app submission process.
Canceling submissions:Previously, after you clicked the Submit button on an app submission in Dev Center, you couldn't edit it again until it had finished processing. After clicking the button, if you realized that something needed to be changed or there was one more bug that you needed to fix, you'd have to wait until the app submission completed before you could address it. Frustrating.Providing a way to cancel a submission is one of the top-ranked requests in our UserVoice forum. I'm pleased to announce that now from the lifecycle page you can cancel an app submission, make changes, and then submit again.
Rotating screenshotsDev Center already supports both portrait and landscape screenshots, but sometimes we receive landscape screenshots in portrait orientation. This may not be such a big deal when viewed on the phone, but it certainly makes a difference when customers browse apps on the web Store. Instead of rotating screenshots in an image editor, you can now rotate them directly in Dev Center after they've been uploaded.
Automatic screenshot resizingFor apps that support multiple screen resolutions, you can now choose to upload only screenshots with the highest resolution and let Dev Center automatically create the others. If you want the flexibility of submitting a set of screenshots per supported resolution, you still have that option.
You can provide feedback about the current features in Dev Center and more at Windows Phone Dev Center UserVoice forum.
via: Windows team blog