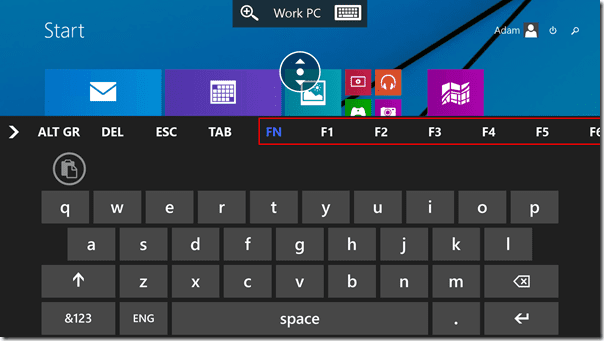 Microsoft is today releasing an update for the Remote Desktop app for Windows Phone 8.1 devices. This new update v8.1.4 brings several new improvements to the app.
Includes the ability to access the Fn keys as part of the extended keyboard (displayed above the standard Windows Phone keyboard). Simply tap the FN button to show or hide the Fn keys (F1 through F12).
You will not be required to press the Back button twice to disconnect the session and go back to the Connection Center. Instead, pressing back once will return to the Connection Center but will leave the session active. Tapping the same desktop tile will quickly jump back in the session while tapping on a different desktop will disconnect the existing session and connect to the new desktop.
Added new voice command to Cortana (the Windows Phone personal assistant) to quickly add a new desktop connection. Using the following command will automatically bring you to the ADD DESKTOP page where you can enter the PC name, tap save and then start the connection by tapping the newly created tile.
The update will be available later today and you can download it here from Windows Phone Store for free.
Source: Microsoft