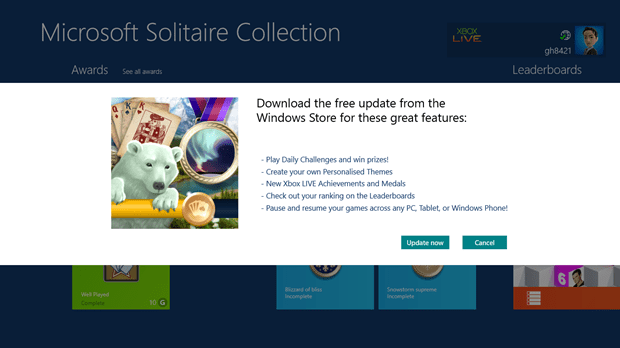 WPDownunder reports on a seismic shift in Windows starting with Windows 8. Its not the "Modern UI" but the fact that the most played game in the world, Solitaire, has now been unbundled from the OS, and will only be available as a seperate install from the Windows Store.
The game is still however available for free in the Store as the Microsoft Solitaire Collection, and is now an Xbox Live title with Achievements.
Even more interesting is that when the game is updated the update offers the ability to:
PAUSE AND RESUME YOUR GAMES ACROSS ANY PC, TABLET OR WINDOWS PHONE!
Presumably the game settings are uploaded up to the cloud, and a version of the game will be made available for Windows Phone soon also.
Solitaire is not alone either – Microsoft Mahjong and Microsoft Minesweeper will also be offering the feature.
With the common core now in place with Windows 8, will there come a time when we are surprised a game does NOT offer this feature?
Read more at Wpdownunder.com
Thanks Gary for the tip.