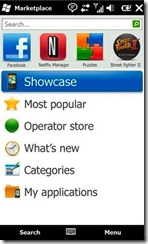 It seems Microsoft will attempt to avoid shooting itself in the foot with its Marketplace efforts.  We have raised the issue recently of the anaemic selection available in countries other than US, mainly due to the cost developers incur in having to support other markets (extra fees and localization costs).
If appears Microsoft has taken that objection on board, with a commitment to making the all the different markets available from the smartphone client.
theUnwired managed to get the following quote from Microsoft at the German Windows Mobile 6.5 launch.
"Microsoft is aware of this problem. However, for the launch it wasn't possible to change this Marketplace Mobile behaviour but Microsoft will introduce a solution later which will allow the end-user to switch Marketplaces".
The more extreme solution however (a single market for the whole world) will however not be offered.
"it's not yet planned to list all available applications in a single Marketplace".
I can see a case for and against this, with Marketplace potentially cluttered with multiple language versions of the same application in some cases.  I would urge Microsoft to include a search option which will search the whole market however, as its asking a bit much for some multi-lingual person in Switzerland for example to search the French, US English, English, Swiss and German market in turn for an application.
Of course the above may just by a Microsoft rep trying to placate a blogger, as we have not seen any official announcement yet. We will continue to live in hope however.
Via Pocketnow.com