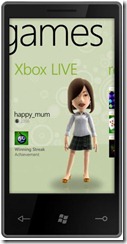 It seems Microsoft is not leaving the gaming credentials of their smartphone to chance.  In a job posting they are looking for a marketing manager to recruit developers to make games for Windows, Xbox Live and also Windows Mobile.
Interested in signing game development deals for a new strategic initiative? Then, come join the Microsoft Game Studios (MGS) Business Development Team. Our mission is to source independent game developers capable of creating the next blockbuster 1st party franchises for our Windows, Mobile and Xbox LIVE platforms. Your goal will be to find developers and game concepts that fit into our portfolio strategy. You will join a team of diverse, dedicated and fun business development experts to significantly contribute to the future of MGS portfolio and success.
The post for a position at Microsoft Games Studios, which is behind games such as Halo, Gears of War and Forza Motorsports. Hopefully we will see games of that quality soon enough on the Windows phone platform also.
See the full job posting here.