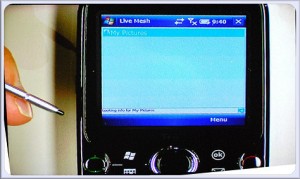 Microsoft announced today that it's making the Live Mesh service – which synchronises data across all your PCs and phones – available to third-party applications. One of the first applications to take advantage will be the BBC's iPlayer. The BBC's head of online media, Anthony Rose (ex-Kazaa), demonstrated a prototype version of the player at Microsoft's Professional Developers Conference today.
It featured a Silverlight-driven desktop application that automatically synchronised shows downloaded on one PC with all the other devices on the person's Mesh network, including Macs and mobile phones.
"When I take out my cell phone, the programme has already been synched," Rose said. "And when I press the play button on my smartphone, it automatically picks up from where I left off [on the PC]."
Microsoft also demonstrated examples of Live Mesh being integrated into other desktop applications.
One photo-sharing application allowed people to edit their photos on their home PC and have the edits automatically update on those of friends and family. Photos taken on a Windows Mobile phone could also be instantly added to a holiday album, for example, and instantly sycnhronised with friends and family.
Microsoft is encouraging developers to integrate such features into forthcoming apps.
Live Mesh clients already exist for the desktop, but have not been released yet for Windows Mobile devices. They should however arrive well before Windows Mobile 7.
Source:PCPro