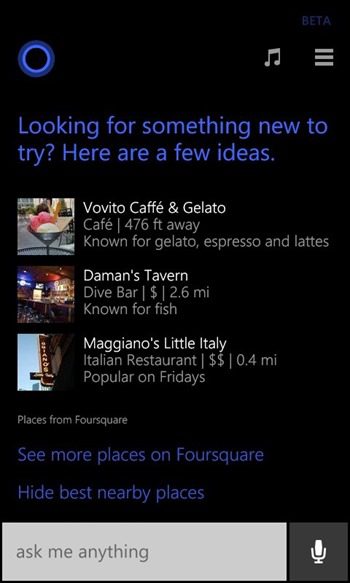 Earlier today, we reported that Microsoft has updated the Cortana digital assistant to support Foursquare local recommendations to users. Microsoft Bing team today confirmed the roll-out to people in the US with phones running Windows Phone 8.1 will have a new way to experience Foursquare recommendations.
Cortana talks on your behalf to the Foursquare service in the cloud and gets the best recommendations for your location and time of day.  If your interest is piqued by a particular recommendation, you can click on it and Cortana will open up that location on the Foursquare app where you can explore more about the place. In the event that you do not have the app installed, Cortana will take you to the recommendation in the Foursquare web experience.
Read more about it here.