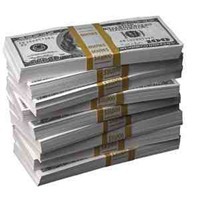 We don't have to tell our readers that sentiment in general is against Microsoft, especially when it comes to smartphones, which are often seen as the computers of the future.
This has had a radical effect on Microsoft's valuation, seemingly depressing the stock to incredibly low levels when taking into account the company's massive earnings.
As Morgan Housel at Motley Fool writes, this makes the shares looks cheap. Really cheap. The company is currently trading at less than 10 times its yearly earnings, which is less than even HP and half of what Apple is running at.
Morgan says:
But lost in this overly simplistic comparison is a simple truth: Microsoft is outrageously profitable, its balance sheet is bulletproof, and its stock trades at a valuation that makes sense in only the most offensively cynical scenarios.

Here you have a $25 stock, with 17% of that value made up of cash in the bank. Back out the cash just sitting there collecting dust, and you get an enterprise value of about $20.75 per share. Simple math: That's 11 times trailing earnings, which is perfectly insane given how low interest rates are.

And what do you get for this unloved stock? A company that still commands more than 90% market share. A company with a near monopoly, where both consumers and corporations realistically have to use Microsoft Office to remain relevant. By any stretch, a company with one of the most powerful moats in the world.
Of course Microsoft's low valuation is justified by prevailing sentiment that the company will not be growing in the future, based on its perceived lack of consumer success.
This of course ignores the skill the company has on the business side. As Microsoft Frank Shaw said:
"So in 10 years we've grown eight new billion-dollar businesses," Shaw said, adding that it "shows what we're capable of doing.
The businesses are:
Xbox
SQL Server
System Center
Unified Communications (Exchange)
SharePoint
Developer Tools (Visual Studio)
Dynamics (ERP & CRM)
Online Advertising (display & search)
Now at WMPoweruser.com we are not financial analysts, but of course they are at Motley Fool, and Housel notes:
The world's best investors, most notably Warren Buffett, have made their fortunes scooping up unloved companies the market has written off. Charlie Munger, Berkshire Hathaway's other co-chairman, advises that "You're likely to be happier and gain felicity by aiming low." Microsoft shareholders are currently aiming low. Happy future returns seem like a good bet.
Now imagine what will happen to the share price of Windows Phone 7 is successful….
Do our readers think Microsoft is a good buy at the moment? Let us know below.
Read more at Motley Fool here.