Perhaps the lack of Room Support in the technical preview should have been a sign, but now Microsoft has officially confirmed it. Windows Phone Rooms are dead.
In an email sent out this evening, the company states:
"Starting in March 2015, Rooms on Windows Phone will no longer be supported. You'll still be able to view and use your room photo albums, calendars and notes. "
Rooms was a nice idea in theory, but the lack of Windows Phone users with a significant social circle of Windows Phone users, means that the Windows Phone exclusive feature would be used less and less in lieu of other services like WhatsApp and ironically, Skype. Microsoft could have mitigated this by making Room a cross-platform addition to the Skype app or as an app on its own, but chose not to, limiting its appeal.
As we said before "It's sad that a great feature like this is crippled by poor planning. I would prefer this is fixed in Windows 10 but I'm not entirely sure that Microsoft is going to further this feature rather than simply kill it completely.". It seems Microsoft is opting for the safer and easier option here. The lack of a user base for this feature and the upcoming messaging overhaul made this an easy choice.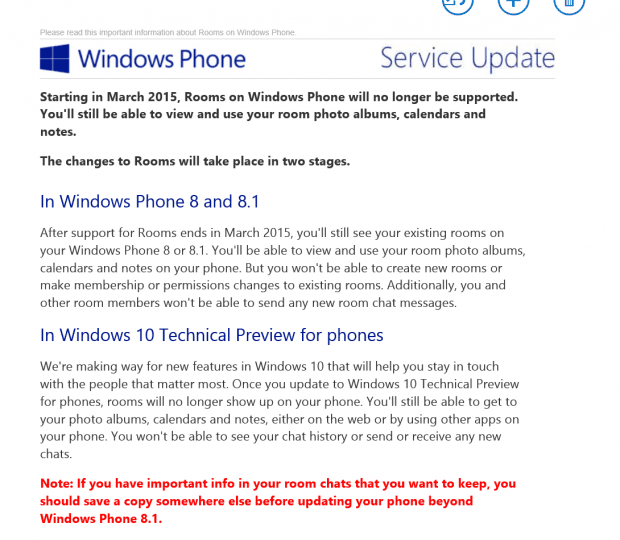 On the bright side, the email also hints at great things to come regarding the functionality previously held by Rooms, we're assuming that this means the new messaging app for Windwos 10 and an update coming in March, possibly GDR2 to remove Rooms from the OS and add new features.
Do you use Rooms in your Windows Phone? Let us know in the comments.